Book review: VMWare vSphere 4.1: HA and DRS technical deepdive
Warning: This blogpost has been posted over two years ago. That is a long time in development-world! The story here may not be relevant, complete or secure. Code might not be complete or obsoleted, and even my current vision might have (completely) changed on the subject. So please do read further, but use it with caution.
Posted on 27 Aug 2011
Tagged with:



I bought this book even before I've ever installed vSphere, and still it's comprehensible. Let's pretend it's because of the book, which is very easy to read and not only tell you how to setup certain parts of vSphere, but also WHY.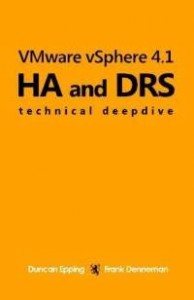 A lot of this book should be common knowledge for all vSphere administrators I guess, but the fact that we go a level further always interests me. How (and when) is a node failure detected, how vSphere calculates which node(s) to move to where, how HA is implemented etc. The technical deepdive is not as technical as I hoped before buying the book, but I guess it's deep enough for sysadmins to understand why certain things work the way they do.
It also got some "basic design principles", which are good to follow, and all these principles are based on the information in the current chapter.
Conclusion
This is one of those books that you will read up from time to time since it's small enough to read in an hour or two but still bulked with lots of info. Even with limited amount of knowledge about vSphere (like I do), you still understand how HA and DRS (and vmotion, DPM etc) work under the hood. This is good book for a sysadmin who wants to know more about how HA and DRS actually work and you should keep it handy somewhere near you.
Info
| Info |   |
| --- | --- |
| Name | VMWare vSphere 4.1: HA and DRS technical deepdive |
| Author | Duncan Epping & Frank Denneman |
| ISBN | 978 1456301446 |
| Link | Amazon |
---